Hair removal
CHEST & ABDOMEN
body areas for men
SHOW YOUR BEST SIDE WITHOUT HAIR AT THE CHEST AND ABDOMEN
If you train hard in the gym and achieve your best performances, you should be able to proudly show off your successes. A hair-free abdomen and a smooth, well-shaped chest are not only aesthetically pleasing but also emphasize your fitness and self-confidence. With our permanent hair removal*, you can showcase your muscles and your body perfectly and feel completely comfortable in your skin. Show what you've achieved and enjoy the self-confidence that comes with a hair-free appearance.
AESTHETICS FOR A HIGH FEELING
Lush body hair on the abdomen and chest is widespread in many men, but it's not always desired. In our institutes, we utilize modern technologies to fulfill your desire for a hair-free chest and abdomen. Our tailored solutions allow you to shape your body according to your preferences and feel more comfortable in your own skin. Discover the self-confidence that a hair-free chest and smooth abdomen can provide and enjoy the feeling of freedom and aesthetics.
IMPRESSIVE RESULTS
Let us convince you of our modern and effective methods of photoepilation and say goodbye to disturbing hair. Feel attractive and comfortable in your skin and don't bother with the annoying removal of hair. Only after a few sessions your can already enjoy permanently* depilated skin. Thanks to the advanced XENOgel Technology we can offer you a painless and effective treatment.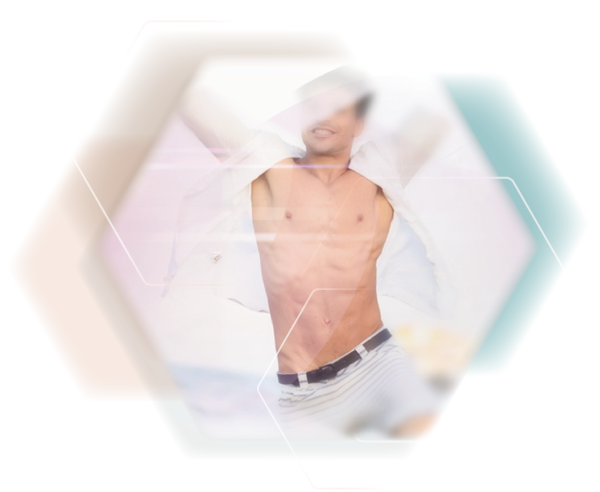 ATTRACTIVE IN EVERY SITUATION
Experience pure freedom in every situation, whether at the pool or in the gym, without worrying about bristly stubble. Our innovative photoepilation fulfills your desire to become an absolute head-turner. Feel unique with your smooth, soft skin. This not only provides a more pleasant feeling for you but also enhances your attractiveness as a smooth chest helps you look more appealing.
SAVE YOUR PRECIOUS TIME
We prioritize professionalism in our institutes, ensuring you leave with the best experience. Forget about the hassle of shaving and use your precious time for more important matters. Be confident that your partner won't find any stray hairs and enjoy your time without worry. Visit our institutes for a free consultation and discover the optimal technology for your needs. A smooth chest at all times without the hassle of shaving.