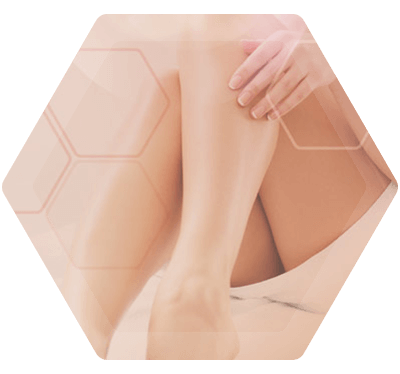 Hair removal
LEGS

Body regions for women
Attractive legs without hair
smooth legs
Smooth, hair-free legs are a desire for most women. Whether it's summer or winter, well-groomed legs are a must for many people. Unfortunately, hair tends to grow quickly in this area, and instead of a sensual appearance, unwanted stubble appears. To avoid this, most women use a razor. But how can you shave your legs without stubble? Is it possible to achieve permanent* hair removal on the legs?
Hair on the toes and feet
It's not uncommon for women to have hair growing on their feet, and some women may have hair on their toes. Female feet are expected to look beautiful, especially when wearing open-toed shoes in the summer. Therefore, it's essential to remove hair from the feet. Due to the curvature of the toes, using a razor for hair removal can be cumbersome. Make it easier to wear beautiful open shoes without worrying about annoying and unwanted hair on your feet. Opting for permanent hair removal* at your expert's clinic is the right choice for this.

Your time is precious – save it with us
Many women reach for the razor every day to achieve smooth legs. However, shaving provides only temporary relief from unsightly stubble. This can quickly become stressful because shaving or other hair removal methods like epilating or waxing require a significant amount of time. In the case of an important appointment, it's inconvenient and nerve-wracking to have to think about your leg hair beforehand. Whether you have to wake up earlier in the morning or risk being late, neither is an optimal solution for smooth legs. With Haarfreiheit, you can enjoy beautiful, hair-free legs every morning without the need for hair removal or stubble worries.
Best technology for hair removal on your legs
You also do not want to worry about shaving on vacation. But smooth, silky skin is a priority on the beach. As you spend most of your time in your favourite beachfront outfit, you should be able to enjoy the sea and the beach carefree.
With the XENOgel Technology you can relax completely and forget all worries and concerns about disturbing body hair. Unlike many traditional hair removal methods, our innovative laser therapy is not only permanent*, but also painless.